The Dive Right In Approach
I am typically not a huge fan of so-called "book learning" or really any theory-based classroom instruction. I would argue that becoming comfortable with audio engineering takes getting your hands very dirty and being unafraid to press any and all buttons at least once (just to see what happens). Yes, you will mix yourself into a corner over and over, but each time will serve as an opportunity to learn and get better. The transition from Garageband to a full-service DAW presents a steep learning curve, and while Youtube tutorials can be very helpful, there will no doubt be many periods of frustration along the way to you getting the sounds you desire.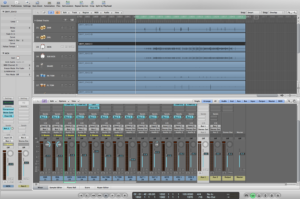 However, admittedly, there is at least one drawback to this "jump right in" approach, which involves the development of bad habits. Or, perhaps, a better way of putting it is that you may learn ways of doing certain things that are less than optimally efficient. For example, I did my first studio record on a Macbook running on its last legs. The only way I could accomplish anything in real-time was to work
 around my amp modeling and mastering plugs — which meant bouncing each instrument track after it got initially dialed in. While this was tedious in its own right, I had no idea that Logic had a Bounce in Place option, which would have saved me the time involved in exporting to the desktop and then importing back in. With how many times I did this step, the time saved would have really added up.
Another example is effect bussing. In my early days I used to put plugin effects directly on each channel strip, which took additional time and led to overloading the processor. This might not be a big deal with just vocals and a guitar reverb, but when I started tracking drum kits with lots of mics, it really became an inferior way of doing things.
These days I try to make a point to ask myself whether there is a more efficient way to complete a task than the way I learned. With the state of technology today, the answer is usually "yes," and the more heavy lifting we can leave to the machines, the more time we can spend doing the fun stuff.