PRODUCT REVIEW: PreSonus TubePre v2 Preamp
For the better part of a decade, my mantra had been "just do it in post." Perhaps this developed due to the fact that I initially took up audio engineering out of necessity — none of my bands could afford legitimate studio time, and we wanted to make records. So, I utilized whatever basic gear I could get my hands on and tried to bridge the gap between amateur and professional via software plugins. I did several albums with no outboard equipment, which required tremendous "massaging" of each instrument track during mixing. In many ways, I prided myself on this gear minimalist way of doing things.
Yet as I get older I find myself embracing hardware more, particularly decent preamps. Now I really had no complaints with those that came loaded in my Tascam 1641, but then again, I wasn't expecting anything magical out of them, either. However, when I made the recent mistake of upgrading our iMac to OSX Sierra, that piece of hardware turned unsupported and is now just employed as an oversized paperweight. But, the show must go on and I decided to make due with a Behringer UM2 (snagged for $30) until I finally have the cash to purchase an X32. For this price, I can't complain, but this thing is not doing me any favors when it comes to guitar and vocals.
So, after doing a little research I came across the PreSonus TubePre V2 preamp, which I subsequently took a chance on used for about $60. A couple of Youtube vi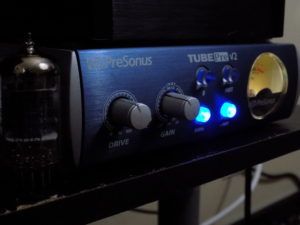 deos later, and I had decided to immediately replace the stock tube with a Sovtek 12AX7.
When the preamp arrived, I plugged it in and I was surprised with how great my condensers sounded through it. Any previous gain noise had totally vanished and the tube supplied a nice amount of warmth easily described as "vintage" in nature. I love the fact that this preamp offers both an 80Hz roll off and phantom power, which is really nice if you want to track with a condenser and like to run your vocals through an external effects processor — like the TC Helicon VoiceTone Synth that I use — before it hits your hardware device.
Yet even though I was thrilled with the sound, I swapped tubes anyway, thinking that the Sovtek would sound even better. Well, I was wrong. There was quite a bit of noise — which was perplexing to me given the glowing reviews for this tube — and to me the vocals sounded less warm and somewhat thin. But, as I read more about the Sovtek it does seem to be more prone to microphonics. So I swapped them back and have been happy ever since.
While this preamp has been great on vocals, I am still in the process of dialing in my guitar tone through it. Don't get me wrong, it totally eliminates any noise and adds great warmth, which is exactly why I purchased it. But still, my tone is definitely impacted by it in ways that will require some tweaks to my amp and effects. Somehow it seems to highlight the pick attack more than before, which I am not used to. However, at the end of the day, I really happy with this device for the price and am kicking myself that I put off picking one up for so long.