A Night of Electronic Music @ Open Oscillator 17
Tonight marks a special night for Open Oscillator. If you haven't heard of this event, it is much more than an open mic for electronic musicians, but a place to experiment musically and meet like-minded supportive artists of diverse genres and backgrounds. The organizers produce such a compelling atmosphere and the transitions between musicians are seamless. This gives the event a more professionally run feel than one would normally associate with the term "open mic."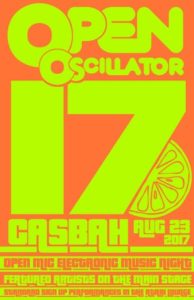 These events happen on a semi-monthly basis and we are now up to number 17. Normally, artists put their name on a signup sheet and perform 8-10 minutes of material, but tonight will also feature 30-minute sets by seven featured electronic musicians, including a not-to-miss performance by SSC artist DLA (on the Casbah main stage from 11:30 pm to 12:00 am). Denim Robot will also be doing a standard two-song set in the Atari Lounge, which should be between 9:00 pm and 10:00 pm, depending on the signup order.
I am always impressed with the crowd turnout at these events, but never surprised. There are always compelling visuals being projected along with atmospheric lights. This creates a unique the ambience, and is quite entertaining even for those that would otherwise not normally go out to see electronic music. Plus, for those of us that make music that is a little "out there" Open Oscillator provides the perfect chance to try out new things, and offers a regular place to play when gigs in San Diego get hard to come by. Many thanks to Jeff, Jesse, and all of those involved in making Open Oscillator happen.
Come on down to Casbah tonight. You won't be disappointed.