Denim Robot Releases New Track "Lucid"
Denim Robot's previous release "Lost Generation," off their upcoming album "Nonexist," marked a bit of a shift in the group's sound — away from the synthpop-ish elements prominent of their last record, towards a more dissonant and experimental space. It is no surprise then that the duo's newest track, "Lucid" goes even further in this direction, despite maintaining that signature DR style of tension and release, and multi-layered moods.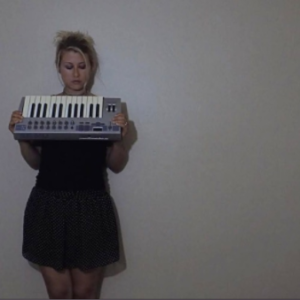 Lucid open with a soft solo marimba synth pattern that establishes for the listener a feeling of unease and uncertainty. Although it may seem like the song will build into something more heavy, it actually brightens up a bit for the chorus, feeling more happy and optimistic despite the seemingly conflicting repeating line: "this monstrosity that is existence". The song then descends into apparent madness, while somehow maintaining a steady and danceable groove throughout.
According to Tommy Bobcat, this track marked the first use of the PreSonus TubePre v2 preamp for the vocals, which "really warmed and fattened them up". DR also utilized an interesting effect for the chorus vocals. Two takes were recorded, with one track being blasted with distortion. This track was then delayed a few samples and brought down in volume to rest underneath the clean track. This effect created the appearance of a distorted echo, which "provided us a great lo-fi vocal option while still maintaining a hi-fi sound for the overall track, a balance that we always try to strike in Denim Robot", says Bobcat.
Definitely check out this new track on Soundcloud, just be sure to buckle up first.