Tommy Bobcat Releases New Tracks "Wine & Turkey" and "Bosintang"
SSC artist Tommy Bobcat, who put out his fourth solo album this past July, has just released a few more tasty tracks. "Wine & Turkey" starts off as a heavy rocker that slowly reduces its tempo incrementally until coming to an almost complete stop, then brutally transitioning into a Doo-wop inspired grove with soundbites overlaid.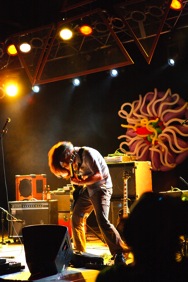 TB's other track "Bosintang," which refers to a Korean soup containing dog meat, has a completely different approach, beginning with creepy female laughter over a jazz fusion-type chord progression. This tune is much more ominous sounding than his previous work, and as Bobcat explains "I wanted to try something different for the vocals this time. I have never heard anyone do layers upon layers of just whispering. It sounded interesting, so I went with it." The track culminates in a demonic electronic/hard rock hybrid that leaves no resolve for the listener.
In contrast to his last album, there arguably less structure to these new tunes. "Recently, I have been listening to a lot of Mr. Bungle, which might account for some of the more abstract ideas being presented" says Bobcat. "I haven't felt compelled to do any standard repeating choruses or versus, or put any guitar solos in as there is plenty of that in my earlier work. Right now I am focusing on more interesting sounds, like incorporating ASMR (Autonomous Sensory Meridian Response) stuff into the mix."
Check out both Wine and Turkey and Bosintang on Soundcloud. Tommy Bobcat will be playing with Denim Robot on October 30th at Soda Bar.